Non-Fiction and Judging Between Historical Perspectives
A Case Study:
Custer and the Native People of North America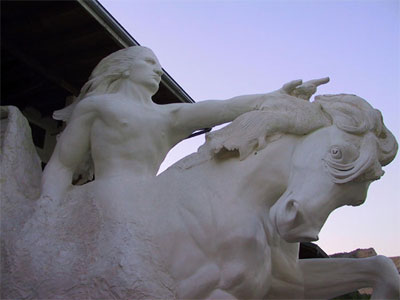 This statue of Crazy Horse, the famous Oglala Lakota warrior and great leader, is a prototype for the larger memorial that is being carved slowly into a cliff face in the Black Hills of South Dakota.
Personal Response Assignment:
Adopt the perspective of a character from one of the texts we have studied during this unit. In a creative prose form of your choice (for instance, you could write a short story, a journal/diary entry, an interview, or even a screenplay), respond to the following question:
"Consider the manner in which our behaviours towards one another are affected by our understanding of ourselves."
Unit Outline with Accompanying Questions
Excerpts from George Custer's My Life On the Plains, or Personal Experiences with the Indians
Excerpts from Black Elk Speaks:
"The Rubbing Out of Long Hair"
Secondary Research on the characters and events
Iron Maiden - "Run to the Hills" (a reflection on the Sand Creek Massacre)